Best BBA Aviation Colleges in Bangalore & Airport Management Colleges in Bangalore – Career, Scope, Job, Salary Details
Best BBA Aviation & Airport Management Colleges in Bangalore – Career, Scope, Job, Salary Details
BBA Aviation and Airport Management in Bangalore: Career, Scope, Job, Salary Scale and Details and a list of Best BBA Aviation Colleges In Bangalore :
Nowadays, many of the 12th Standard/PUC candidates are gravitating towards BBA Aviation Colleges in Bangalore. This course is selling like hot cakes, particularly amongst those students who need to be in a commanding position in the exciting airport and aviation sector across India.
Since you are here reading this article, I presume you are one of those aspiring students wanting to pursue a course in Aviation & Airport Management. I'm sure there would be many questions running in your head right now. What is Aviation & Airport Management? How much will the course cost? What is the scope and pay scale?
Don't you worry; this article will answer all of these questions and then some more. Everything will be crystal clear about the courses, pay scale, job opportunities and all relevant details by the time you finish reading this article. And if you are strapped for time and don't want to read through the entire article, check out this infographic that summarizes it all: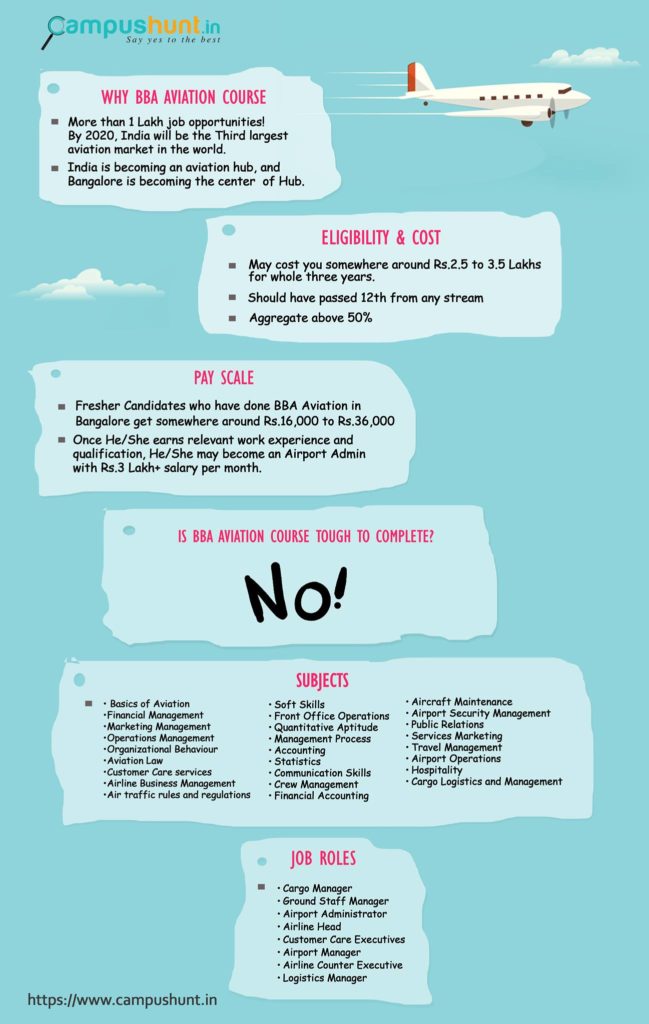 Want To Share this Image On Your Site? Here is the code for you
Why Should You Opt In for the course from BBA Aviation Colleges in Bangalore?
There are many reasons that have given rise to the new trend of students taking the BBA Aviation course in Bangalore. Possibly the biggest of them is the proliferation of the aviation sector since 2015. The demand for professionals in the aviation sector has multiplied and institutes have obviously taken note. Bachelor of Business Administration (BBA) programme in Aviation and Airport Management has become one of the most desired courses in various colleges.
As per a report from the central aviation ministry, India would become the third largest aviation market in the world by 2025. Globalization has inarguably transformed the world into a single village. Foreign nationals from different countries are traveling to India with Indians going abroad for Business opportunities, job search, events, tourism, etc. All of this has contributed to the rapid growth in the number of air travelers.
Many new International airports are currently under construction in India; however, that's just the tip of the iceberg. While Asia's biggest flight maintenance hangar is at the Singapore airport, another massive flight maintenance hangar facility with minimal maintenance cost is in the works in India. Once the maintenance hangar starts operating in full swing, 60% of the flights which operate in Asia may come here to India. What does this mean you ask? A golden opportunity.
Most of the airline companies would have to set up offices and centers in Cochin, Bangalore and Hyderabad airports. Such promising scenarios coupled with the current boom in the sector have generated many job opportunities in aviation.
Additionally, major Indian airlines such as Air Carnival, Indian, Air India, Jet Airways, Spice Jet, Go Air, Indigo, Air Vistara along with International airlines such as Emirates, Air Asia, Sri Lankan Air, Saudi Airlines, etc. are upscaling operations and doubling services. This is another reason for the growth in opportunities in the Aviation and Airport Management field.
Meanwhile, even the Defense sector, Indian Airforce, and HAL are investing billions of rupees for the development of numerous indigenous fighter aircraft and new technologies in the aviation industry. Tejas, India's newly built indigenous fighter aircraft is one of the best examples of the initiative's success.
Similarly, French fighter jet manufacturer Dassault Aviation has set up manufacturing plants in India as part of a joint venture with Reliance group. They intend on producing one of the world's leading fighter jets called Rafale, which is considered to be on par or even better than USA's F18 Fighter Jet.
Research suggests India is becoming an aviation hub, and Bangalore is at the center of it all with more than 1 Lakh job opportunities expected to crop up in the near future.
The reasons mentioned above explain why most of the leading Engineering/Management, as well as Medical Colleges in Bangalore, have started providing BBA Aviation Course in Bangalore. Some of the Colleges that come in the list are East Point College Bangalore, BGS Global SJB College Bangalore, Brindavan College Bangalore, SJES college Bangalore, Hillside College, etc.
BBA Aviation Colleges in Bangalore are providing graduates a certification from Bangalore University and an Aviation certificate from different authorities such as IATA, APTECH, etc. Students should choose the colleges that are providing IATA approved certificates for better placements and job opportunities.
What is the BBA Aviation and Airport Management Course?
BBA in Aviation is a three-year undergraduate course broken down into six semesters mostly affiliated to Bangalore University. The course is certified by some of the authorities/associations such as IATA, APTECH, etc.
Fee Structure of BBA Aviation in Bangalore
Though there are colleges that provide BBA course in Aviation and Airport Management in Bangalore for a mere sum of Rs.1.5 Lakhs for the entire course, we do suggest you choose a bigger college campus which has an IATA certification in Bangalore.
If you want to get a degree from any of the top Aviation & Airport management colleges, it may cost you somewhere around Rs.2.5 to 3.5 Lakhs for all three years.
Pay Scale after BBA Aviation & Airport Management Course Completion :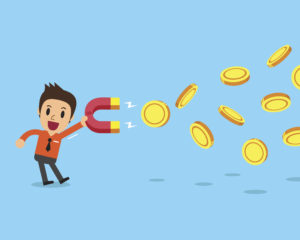 Fresher candidates who have done BBA Aviation in Bangalore get somewhere around Rs.16,000 to Rs.36,000 per month at airports such as Kempegowda International Airport Bangalore, Chatrapati Shivaji International Airport Mumbai or Indira Gandhi international airport Delhi, which are the three biggest airports in India as of now.
A candidate with relevant work experience and certified qualification can become an Airport Admin, a profile that attracts a maximum salary of 3 lakhs per month.
Is BBA Aviation Course tough to complete?
To answer this question in one word, "No". BBA Aviation and Airport Management Courses are not tough to complete as most people usually think. It's much easier and easy to understand than Engineering or technical courses
Unlike B.Tech and Engineering courses of VTU University, there is no Year Back system for BBA Aviation course at Bangalore University.
The candidates have the freedom to clear the subjects within six semesters. BBA Aviation is more into the application of the best managerial tactics in the Aviation field, it's relatively effortless to crack and will be interesting for students of any stream.
It doesn't matter if you are from the Science, Commerce or Humanities and Arts stream; Business Administration Graduation (BBA Aviation) is a meaningful and interesting topic that can be absorbed with ease. The overall passing percentage has almost been 100% of Bangalore University for nearly 10 years. The statistics prove that you don't need to be genius to complete BBA in Aviation, all you need is the interest and desire.
Eligibility for BBA Aviation Course :
Candidates who have passed 12th Grade from any stream (Science, Commerce, Humanities or Arts) can opt for the course. Even though the minimum marks criteria exist, it varies from institute to institute. In most of the colleges, the cut-off is around 50%.
Subjects Covered or syllabus of BBA Aviation
As previously mentioned, you will have a total of six semesters in which the following topics would be covered:
Basics of Aviation
Financial Management
Marketing Management
Operations Management
Organizational Behaviour
Aviation Law
Customer Care services
Airline Business Management
Air traffic rules and regulations
Soft Skills
Front Office Operations
Quantitative Aptitude
Management Process
Accounting
Statistics
Communication Skills
Crew Management
Financial Accounting
Aircraft Maintenance
Airport Security Management
Public Relations
Services Marketing
Travel Management
Airport Operations
Hospitality
Cargo Logistics and Management
Higher studies options after BBA Aviation Course :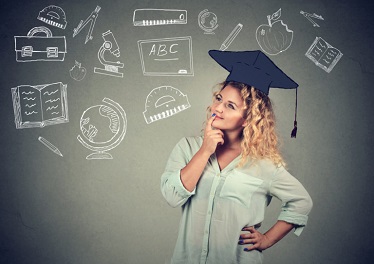 MBA is the best fit when it comes to higher studies options for students who have completed BBA Aviation course in any of the leading colleges of Bangalore. It will naturally add a lot of value to a candidate's resume.
Once a candidate having BBA Aviation and MBA Aviation with one year of relevant experience in the Aviation sector. He/She may get a salary of Rs.35,000 to 1,50,000 per month based on the applicant's language and skills.
Most of the BBA Aviation Colleges in Bangalore provide excellent campus placement support for students to get into leading Airline Companies and major airports along with a lucrative salary package.
Most of the companies choose managerial candidates who have completed their BBA Aviation Courses from Bangalore based colleges because of their superior English Language skills and a better accent due to the presence of international students. Also, Bangalore University is one of the oldest and the best universities for managerial courses, especially for Executive MBA, MBA, and BBA Aviation courses.
Job Opportunities and Job Roles after BBA Aviation & Airport Management:
After completion of the course, a graduate may get placed or get hired by various International and Domestic Airports. The average salary as per our research is somewhere between 3-6 Lakh Rupees per annum.
It should be noted that landing a high-paying job also depends on the quality of the institute where you complete your course as well as your aptitude. Hence, it's important to choose a good institute to pursue your course. You can look out for some of the Best BBA Aviation Colleges in Bangalore.
You can also take a look at Job Roles you can land into after your BBA Aviation course.
Cargo Manager
Ground Staff Manager
Airport Administrator
Airline Head
Customer Care Executives
Airport Manager
Airline Counter Executive
Logistics Manager
List Of Best BBA Aviation Colleges in Bangalore:
East-West College Bangalore
Hillside College Bangalore
Krupanidhi College, Bangalore
Acharya Institutes, Bangalore
Koshys College Bangalore
RR College Bangalore
Just mentioning the names of best BBA Aviation colleges in Bangalore would not enough, would it be? Here are some details about all of the above-mentioned colleges.
Jain University

Jain University is a reputed institute located in Bangalore which has been accredited 'Deemed-to-be-University'. Consistently ranked as one of the top universities in India, Jain University was founded by eminent educationist Dr. Chenraj Roychand in 1990 and has gone to become a sought-after destination for students from across the country. The university offers various programs at the undergraduate, post-graduate and doctoral levels.

In addition to having one of the best BBA Aviation courses, the University also provides courses in Law, Science, Arts and Humanities, Commerce and Engineering & Technology. With over 11901 students on a national and international level and 448 faculty members, the University boasts of multiple state-of-the-art campuses dedicated to a particular stream that encourage holistic learning and development. The University is in collaboration with nearly 87 organizations and intuitions from Canada, UK, Russia, USA and Germany and has a solid placement record.

Jain University Contact Details:

Address: Jain University Center for Management Studies, #133, Lalbagh Road, Bangalore – 560027

E-Mail ID: info@cms.ac.in

Admission Office

Address: #44/4, District Fund Road, Jayanagar 9th Block Campus, Bangalore – 560069

Website: https://www.jainuniversity.ac.in/
East-West College, Bangalore

Founded in 1968 by deceased philanthropist Sri CM Nagaraj, East-West College has been one of the topmost colleges in Bangalore for nearly 50 years. Equipped with an ultra-modern campus spread across 20 acres of land, the college offers courses in Engineering, Technology, and Management at UG, PG and research levels. The college is affiliated to Visvesvaraya Technological University (VTU), Belagvi and is accredited and recognized by AICTE, NAAC and the Government of Karnataka,

East-West College provides features such as in-campus hostels, safe transpiration, and access to ATMs of nationalized banks in the campus. With over 100 courses, 3500 students, and 250 awards won over the course of its 50-year existence, East-West College has a proven track record in providing excellent management education.

East-West College Contact Details:

Address: Off Magadi Road, Vishwaneedam Post, Bangalore 560 091, Karnataka, India

Head Office Address: 2nd Stage, Rajajinagar, Subramanyanagar, Bangalore 560 010, Karnataka, INDIA

Email Ids: eastwestcollege@vsnal.com, principal@ewit.edu, ewgi68@yahoo.co.in

Websites Links: http://www.ewgi.edu.in , http://www.ewit.edu
Hillside College, Bangalore

Started by Bheemchandra Education Trust in 1996, Hillside College, commonly known as Hillside Academy began as a healthcare education institute along with schools imparting basic education. Over the years, its reputation grew and it branched out into providing UG and PG courses in Business, Nursing, Medical, and Paramedical streams.

Hillside Business School offers different specializations in BBA with one of them being BBA in Aviation and Airport Management. With well-equipped infrastructure and popularity in the Aviation industry, Hillside College is a viable destination for students who wish to pursue a career in not just aviation and airport management but also any other business-related field.

Hillside College Contact Details:

Address: # 9, Raghuvanahalli, Gubbalala Cross, Kanakapura Main Road, Bangalore-560062, Karnataka, India.

Email: admissions@hillsideacademy.in

Website Links: http://hillsidebusinessschool.edu.in, http://www.hillsideacademy.in
Krupanidhi College, Bangalore

Credited for being the first college to offer Physiotherapy in Bangalore, Krupanidhi College is managed by the Krupanidhi Educational Trust and has been active for almost 30 years. The college offers various courses at Diploma, UG, PG and Doctorate levels and different streams such as Computer Applications, Management, Pharmacy, Physiotherapy, Commerce and arts. The college boasts of a diverse culture as the strength is approximately 600 students from 20 countries.

The 11-acre campus has all the necessary facilities such as a stacked library, hygienic hostel, and cafeteria, fitness zone, labs and transportation services. The college even encourages effective participation in sports and on the whole, provides a complete educational experience. The college has collaborations with international universities and organizations which opens the door for studying and settling abroad. The BBA course in Aviation is one of the top programmes offered with the institute also providing an MBA and countless placement opportunities due to their recruitment tie-ups.

Krupanidhi College Contact Details:

Address: 12/1, Chikka Bellandur, Carmelaram Post, Varthur Hobli, off Sarjapur Road, Bangalore – 560 035

Registered Address: Krupanidhi Educational Trust #5, Sarjapur Road, 1st Block, Koramangala, Bangalore – 560 034

Email Ids: info@krupanidhi.edu.in, admissions@krupanidhi.edu.in

Website Links: https://www.ksm.edu.in, https://krupanidhi.edu.in
East Point College, Bangalore:

Established by the MG Charitable Trust in 1988, East Pint College began its Higher Education wing in 1995 with the aim to provide excellent management and commerce education. The college comes under the affiliation of Bangalore University and is recognized by AICTE, UGC and the Government of Karnataka. The campus has all the modern facilities required in a top institute in addition to countless programmes being offered at all levels – Diploma, UG, PG, and Doctoral.

The management wing of the college has the strength of around 1500 students from different nationalities and the programmes are coherently structured according to the guidelines set by Bangalore University. Owing to its 25-year existence, East Point has a good name in the industry and comes in handy during a job search.

While Management courses are quite popular, East Point is also famous for its Technical and Engineering studies. The college even has departments of Medical, Commerce, Science, Pharmacy, Nursing, and Physiotherapy.

East Point College Contact Details:

Campus: Jnana Prabha, East Point Campus, Virgo Nagar Post, Avalahalli, Bengaluru-560049, Karnataka

East Point Academy Address: #10, 80 Ft.Rd, HRBR Layout, Kalyan Nagar, Bangalore – 560043

Email Ids: info@eastpoint.ac.in, admissions@eastpoint.ac.in

College Website Links: http://www.eastpoint.ac.in, http://www.eastpoint.ac.in/higher
BGS Global SJB College, Bangalore

Started by his Holiness Jagadguru Padmabushana Sri Sri Sri Dr. Balagangadaranatha Maha Swamiji, SJB College of Management Studies is affiliated to Bangalore University and offers a wide range of courses in the management spectrum, one of which is a 3-year BBA course in Aviation.

SJB is also known for its technical institute that provides quality education in many different streams of Engineering. The campus is equipped with all must-needed facilities such as hostels, cafeteria, wifi, transportation, library, labs etc.

The institute has a placement cell which works towards ensuring the students get picked up by top companies. While they offer MBA courses at their campus, there is also an option of doing it abroad due to their international alliances. The institute aims at enhancing the intellectual, physical and spiritual needs of a student.

BGS Global SJB College Contact Details:

Address: #67, BGS Health & Education City Uttarahalli Road Kengeri, Bangalore South – 560060 KARNATAKA, INDIA.

Email Id: principal.sjbcms@gmail.com

Website links: http://www.sjbcms.edu.in, http://sjbit.edu.in/
Acharya Institutes, Bangalore

Founded in 2000, Acharya Institutes is one of the fastest growing educational groups in Bangalore that offers 100+ programmes at different levels and has a yearly capacity of more than 12,000 students across all branches. The institute also has a large population of foreign nationals as the campus has students from over 75 different countries.

Primarily known for its exceptional engineering and management education, Acharya institutes also has notable departments of Architecture, Pharmacy, Polytechnic, Allied Health Science, Nursing, Law, Education, and Design. The campus, which is spread across 120 acres of primordial land, has a perfect blend of traditional and modern architecture.

Affiliated with Visvesvaraya Technological University (VIT), the institute has unique collaborations with countless international universities that help the candidates with diverse higher studies and student exchange options.

The institute also works closely with a host of Multi-National Companies such as Microsoft, IBM, Infosys, and Oracle, and has an impressive placement track record. All the academic potential aside, Acharya institutes gives major emphasis on extra-curricular activities and boasts of all the state-of-the-art facilities that are a must in any modern-day college.

A 10,000-seater stadium is a hotspot for Cricket, football and other field and track activities. The stadium also hosts music and intercollegiate shows and festivals which are attended by people from around the country. An Amphitheatre and a dedicated indoor game room add to the complete experience delivered by the Acharya Group.

Acharya Institutes Contact Details:

Address: Acharya Institutes Acharya Dr. Sarvepalli Radhakrishnan Road Acharya PO, Soladevanahalli Bangalore-560 107, India.

Email Id: admissions@acharya.ac.in (Domestic), international@acharya.ac.in (International)

Website Links: https://www.acharya.ac.in
Brindavan College, Bangalore

The brainchild of technocrat-turned educationist Dr. Majed A.A. Sabha, Brindavan College was founded in 1993 with 127 students on board. Presently, the college has almost 1400 students from 46 different countries pursuing courses at different levels such as Diploma, UG, PG and Doctoral in streams such as Engineering, Management, Computer Applications, Commerce and Architecture.

The college is recognized by AICTE, UGC and the Government of Karnataka and comes under the affiliation of both Bangalore University and VTU. The college has been given the grade A by the NAAC and has proven to be one of the best institutes in Bangalore.

Brindavan College Contact Details:

Address: Brindavan College of UG/PG Address: Brindavan Group of Institutions, Dwarakanagar, Bagalur Main Road, Yelahanka, Bengaluru – 560 063.

For Admission:

Email Id: info@brindavancollege.com, bobby@brindavancollege.com, admissions@brindavancollege.com

Website Links: https://www.brindavancollege.com, http://www.brindavancollegeugpg.com
SJES College, Bangalore

Sri Jayachamarajendra Education Society (SJES) Education Institutions was founded in 1979 by Sri Kaverappa. The group of institutions operates right from the primary level education to post-graduation. Despite its multi-faceted nature, SJES is renowned for its BBA in Aviation programme that has a high intake every year. SJES has all the relevant facilities and also provides ample emphasis on sports and extracurricular activities. SJES prides itself on its stellar academic results and industry interaction.

Approved by AICTE, recognized by the Government of Karnataka and affiliated to Bangalore University; SJES not only focuses on coursework but also has a dedicated placement cell to ensure their students get hired by top companies. This makes SJES an ideal destination for candidates looking for not just management courses in aviation, but also in streams such as nursing, polytechnic, and teaching.

SJES College Contact Details

Address: Medahalli, Old Madras Road, Bengaluru 560 049, Karnataka INDIA

Email: sjes@sjesinstitutions.ac.in

Website Links: http://sjesinstitutions.com/index.html?r, http://sjesinstitutions.com/management.html?r, http://www.sjesinstitutions.in/
Koshys College, Bangalore

Koshy's Institute of Management Studies was incepted in 2003 as part of Koshy's Group of Institutions (KGI). The institute is one of the best business schools not just in Bangalore, but in India as a whole.

BBA in Aviation is one of the many courses amongst a large catalog of management programmes offered by Koshys. The wifi enabled 7-acre campus has all the amenities including a basketball court and football field.

The institute is approved by AICTE and is affiliated to Bangalore University. All courses include one month's internship and with additional placement services in order to help students get picked up by top companies and organizations.

Koshys College Contact Details

Campus Address: No.31/1, Kadusonnapana Halli, Hennur-Bagalur Road, Kannur, Bangalore – 562149, Karnataka, India

Admission Office Address: 36/1, 1st Floor, Safir Mansion, Hennur Main Road, Bangalore – 560043, Karnataka, India

Email Id: admissions@kgi.edu.in
Christian College, Bangalore

Run by Sri Rajaram Mohan Roy Educational Trust, Christian College was founded in 2000 and provides courses that are affiliated to various universities such as Bharathiar University, Rajiv Gandhi University of Health Sciences, Bangalore University and Mysore University.

The college has three major streams namely, Management, Nursing and Paramedical with Management courses being the USP of the institute.

The institute offers a BBA in Aviation with IATA certification as well as an MBA in Aviation. Thus, it is a one-stop shop for candidates who wish to have an extensive career in aviation. That's not all; Christian College also offers placement assistance for its students.

Christian College Contact Details:

Address: 150/6, Horamavu-Agara, Hennur Main Road, K.R.Puram, Bangalore 560043.

Website Link: http://www.christiancollegebangalore.org/index.php
RR College, Bangalore

Under the gambit of PKM Educational Trust, RR College has quickly risen to be a noteworthy institute that offers a wide array of technical and non-technical courses in various streams and levels such as Diploma, UG, PG, and Doctoral.

The 27-acre land is the home of the campus that has 23-degree programmes, 10 masters degree programmes, 7 diploma programmes, and 4 doctorates. The courses are overseen by 650+ teaching staff and 500+ non-teaching staff. The institute has departments such as Technology, Engineering, Management Architecture, Pharmacy, Polytechnic, etc.

RR College Contact Details

Address: Raja Reddy Layout, Heseraghatta Main Road Chikkabanavara, Bangalore – 560 090

Email Id: contact@rrinstitutions.com

Website Link: http://www.rrinstitutions.com
If the article is too long to read, here is a TL;DR video for you, But the video does not include the list of Best BBA Aviation Colleges in Bangalore, so that part, you have to read to get to know about them.

You can also have a look at BBA Aviation Colleges with complete details here. Have something more to add to it? Please let us know in the comments. Don't forget to share this article with friends who are planning on pursuing this course.
Also, check out this video on Best BBA Aviation Colleges in Bangalore.