Best Executive MBA Colleges – Distance Learning MBA Colleges in Bangalore, India
Best Executive MBA Colleges In Bangalore, India – Distance Learning MBA Colleges in Bangalore

Careers in Executive MBA:
Executive MBA is a postgraduate program designed specifically for those who have not pursued an MBA earlier in their career and wish to do so after obtaining a few years of experience, especially at the managerial level. This degree is meant to enhance the careers and fine-tune the skills of working executives, managers, entrepreneurs and other business leaders.
Executive MBA falls under the umbrella of PGPX (Postgraduate programme for executives). An executive MBA can enhance leadership skills to boost current careers, this course is generally undertaken by professionals who are at a more advanced stage in their career and are looking to increase the rate at which they can climb the corporate ladder.
Candidates generally having 5 to 15 years of managerial experience are accepted into Executive MBA courses and hence the major highlight of this course is the company one can expect to keep. As all the students in these courses are experienced in the work field, the potential for networking and peer to peer learning is what makes this degree lucrative.
Duration:
The duration for an Executive MBA can span between 1 year in the full-time mode up to 3 years in the distance learning mode depending on the institution that if offering the course.
Specializations:
There are a few specializations available during an Executive MBA. Candidates are expected to pursue a specialization based on their current field of work. Some of the specializations offered by leading Business schools in India are mentioned below:
Hospitality Management
Human Resources
IT system
Marketing
Finance
General Eligibility Criteria:
The basic requirement for admission into Executive MBA programs is that candidates must have completed a Bachelor's degree in any field from any recognized university and they must have some level of work experience.
Some universities require a minimum of 3 years of managerial experience, others require 5 years of post qualification work experience while some can require as much as 10 to 15 years of full-time work experience. This is entirely at the discretion of the institute itself.
Some programs have a minimum age requirement of 27 years. Best executive MBA colleges in Bangalore Or In India may also have a cutoff score of 50% in Bachelors degree or higher.
Additional to this, most colleges have an entrance examination or require candidates to take a standardized test such as the GMAT. Upon clearing the entrance test, there is also a group discussion and personal interview that one must clear in order to get admission.
Admission Procedures:
Download admission form from university website/collect admission form from a university campus
Fill out the complete form with accurate information, attach copies of all relevant documents as prescribed by the university or college. This usually includes educational certificates, identity proof, birth proof etc.
Appear for relevant entrance examination as prescribed by the university or college. For Executive MBA, there are a few standardized tests as well as university level tests that one may be expected to take. Some of the most popular and widely accepted tests are mentioned below.
Await merit list based on entrance examination scores. Most universities prepare merit list solely on the basis of the entrance examination, therefore, performance in the entrance examination is key to gaining admission.
Some universities also require candidates to write an essay in the format of a Statement of Purpose (SOP), outlining their goals upon completion of the Executive MBA.
Most universities conduct a group interview round followed by a personal interview for candidates who are trying to get admission to an Executive MBA course. Candidates must appear for group interview followed by the personal interview and counseling. All original documents should be shown during counseling to secure admission. As the appeal of an Executive MBA is in bringing together highly experienced candidates, confidence and clarity of thought during the personal interview is absolutely necessary in order to secure admission.
Best Executive MBA Colleges in India:
Executive MBA programs are by no measure a cheap affair, generally costing much more than a regular MBA program. Therefore it is important to assess the cost versus the potential benefits. There is no point in completing an expensive Executive MBA course only to secure a menial pay rise. Employers in India tend to favor those who have completed their Executive MBA from one of the top executive MBA colleges, thus one of these colleges should be your top choice for pursuing an Executive MBA:
Faculty of Management Studies (FMS) – Delhi
Indian Institute of Foreign Trade (IIFT) – New Delhi
Indian Institute of Management- Ahmadabad (IIMA)
Indian Institute of Management- Bangalore (IIMB)
Indian Institute of Management- Calcutta (IIMC)
Indian Institute of Management- Indore (IIMIDR)
Indian Institute of Management- Kozhikode (IIMK)
Indian Institute of Management- Lucknow (IIML)
Indian School of Business (ISB)
Symbiosis International University, Pune
Xavier School of Management (XLRI) – Jamshedpur
Best Executive MBA Colleges in Bangalore:
An Executive MBA does not hold much value unless it is pursued from the best executive MBA college in Bangalore, India or anywhere else for that matter. There is one institute in Bangalore that ranks amongst the top business schools in India, IIM Bangalore.
Scope:
Business executives are needed in virtually every field, in some fields, they run the show while in other they support organizational structures in important ways. Therefore there is scope for graduates of Executive MBA in virtually every business regardless of the field. Some of the fields in which Executive MBAs can find employment are mentioned below:
Telecom-Management
Infrastructure Development
Hospitality Management
Retail
Accounting
Aviation
Operations
General Management
Sales & Marketing
Finance
Human Resources
IT
International Business
Import/Export
Retail
Hospital/Health Care Management
Career Opportunities:
An Executive MBA can be an important step in the process of fast-tracking one's career progress. Some professionals go into this course with the aim of fine-tuning leadership skills so they can pursue entrepreneurship. Currently, Executive MBAs can find themselves holding these posts:
Account Manager
Branch Banking & Credit
Brand Manager
Business Operations
Card Payments Operations Head
Commercial Credit
Corporate Banking
Corporate Treasury
Credit Analysis
Equity Research
Equity Research Analysts
HR Generalist Business Partner
Investment Banking
IT Services Marketing Head
Management Consultant
Marketing Manager
Project Managers
Recruitment Manager
Relationship Management
Risk Analytics
Strategic Business
Trade Finance Services
Vice President – Investment Banking
Wealth management
Zonal Business Manager – Telecom
Salary: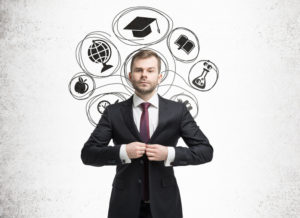 Most professionals go into an Executive MBA with the aim of career growth and subsequently an increase in pay grade. However, it is important to note that this is usually only possible if one's current skills are in demand and they plan to continue in their current field itself.
For those who plan on a career change, they may have to continue at the same or similar pay grade as they had before getting an Executive MBA. The top executive colleges in Bangalore, India have placement programs that one can take advantage of, where headhunters are looking for perfect candidates to fill high-level vacancies in large organizations.
These usually provide for a very good salary. Alternatively, candidates can renegotiate their salary package at their current organization on account of being more qualified.
In one of the top executive MBA colleges, graduating candidates enjoy an average salary of Rs 17 lacs per annum, with a recorded 64% jump in salary post Executive MBA. Top Business school graduates can expect an annual package of Rs 20 lacs in India. Salary packages do differ based on the field of specialization as well, with graduates from finance can expect higher pay packages than other disciplines.
Recruiting Companies:
There is a long list of companies who either recruit or retain current employs who have pursued a part-time Executive MBA. Some of the top firms amongst these are mentioned below:
Accenture
Arvind Infrastructure
Axis Bank
Ernst and Young Private Limited
Godrej Industries
HDFC Bank
IBM
ICICI Bank
Infosys
Mount Meru Group
Narayana Hrudalaya
Practo
Premier Logic
Propstack
Randstad India
Trident Group
An Executive MBA is definitely not something to rush into. It is important to do a cost-benefit analysis for the chosen field at any given time as the market demand is always changing. Therefore, if the time is right, an Executive MBA can lead to accelerated career growth and impressive remunerations.